BSP's complex commercial and business litigation team understands that no two business disputes are the same. We work with our clients to set in motion carefully tailored strategies aimed at meeting the specific needs of each case. Meanwhile, we also work to manage the process of litigation so as to reduce the cost, uncertainty, and distraction it causes, and help our clients make better-informed decisions along the way. At the end of the day, business disputes are business problems; and we deliver solutions, not just fights.
Our team is experienced in handling a wide variety of business disputes, in forums ranging from federal and state courts nationwide to public and private arbitration.
BSP's Advanced Capabilities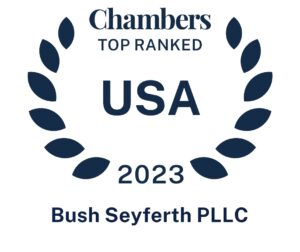 Business Torts / Fraud
Securities
Mergers and Acquisitions
Unfair Competition / Trade Secrets
Contracts / Supply Chain / UCC
Broker-Dealer Issues
Corporate Governance / Fiduciary Duty
Health Care
Intellectual Property
Chambers and Partners Ranking
BSP's Business and Commercial Practice Group has been ranked in Chambers and Partners 2023 USA Guide for Litigation: General Commercial (Michigan).
Chambers' ranking tables are compiled through assessment of a firm's work and opinions from external market sources, which emphasize client feedback. To be ranked in the guide, firms and lawyers must demonstrate sustained excellence.
Clients note that BSP's practice is, "well informed, thoughtful and professional. They understand the issues and help manage matters in an efficient way," and "The attorneys are detail-oriented and service-oriented in terms of recognizing what the client needs."
To view the guide, click here.
AT&T Inc.
Ford Motor Company
PulteGroup
Roush Industries
FordDirect
Tenet Healthcare
Somnia, Inc.
General Motors
Stellantis
KeyBank
Edward Jones & Co., L.P.
City of Detroit
Nissan North America
United Wholesale Mortgage